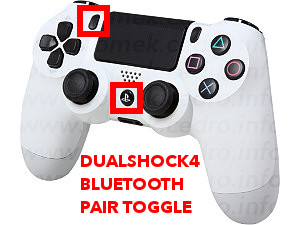 There is one simple way I have discovered to pair with Dualshock4 Playstation4 controller using standard Bluetooth Pairing Procedure. Make sure controller is turned off, then press and hold SHARE button, then press and hold PLAYSTATION button until LED starts to blink (two short white blinks every few seconds). You can now discover and enjoy your Dualshock4 controller with any Bluetooth (HID) enabled device. No cables and no additional applications necessary! :-)
Dualshock4 is a really nice high quality and precise controller that can be used in many more interesting applications than only playing games. It is compatible with Bluetooth HID and USB HID standard. It contains 2 analog joysticks, 2 analog sliders, 13 buttons, touch-pad, accelerometer, vibrator, audio speaker with headset port, RGB LED, micro-USB port, and external expansion port..
Unfortunately, lack of self-compatibility seems to be a strong disadvantage of Playstation platform. Not only because PS4 does not run old software. Dualshock4 seems to have different way of handling button events as compared to Dualshock3 (default Playstation3 controller). It has some sort of auto-repeat feature (like PC BIOS keyboard) instead of button change events (like MIDI). This renders Dualshock4 unreliable on Playstation3 platform because of massive control glitches. Also DS4 PS button does not produce system menu on PS3, so you cannot use it as the main controller replacement. Sadly, it is impossible to use DS3 controller on PS4 as well. Hopefully, switching CPU to AMD64 and OS to FreeBSD could bring more self-compatibility to Playstation in future..